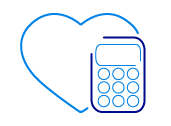 Comparing life insurance is particularly important as you can choose different types depending on what you want to cover.
The two most common types of life insurance are level term and decreasing term. 
Level term: The amount you're covered for is fixed when you start paying your premiums, and it stays the same throughout the term. A guaranteed lump sum will be paid if you die during the policy term.
Mortgage life insurance: Also known as decreasing term insurance, is commonly used to cover the outstanding balance of a standard repayment mortgage. The amount of cover reduces over the length of the policy. 
Other things to consider:
Critical illness cover: This cover provides you with a lump sum if you're diagnosed with a defined critical illness during the policy term; for example, some types of cancer or a stroke. It's important to remember that there's usually only one pay out, which is when you are diagnosed with an illness. The amount and types of illnesses covered also vary by provider, so always check the policy details.
Joint life insurance: This type of policy will cover you and another person, paying out only once following a claim and then ending. A joint policy can be cheaper than taking out two single policies, but there will only be one payout. 
Over 50's life insurance: A whole of life insurance policy is available to UK residents aged 50 to 80. There's no medical required and acceptance is guaranteed. Pay outs from an over 50s policy could be used to cover funeral costs, household bills or leave a financial gift to loved ones.
Income protection: This type of policy safeguards your income should you become unable to work due to illness, accident or unemployment. Although it's slightly different to life insurance, some insurers may offer both as a combined policy.
If you would like to discuss different policy options or if you need any more information, then our dedicated life insurance team would be happy to help. 
Confused.com partner with Direct Life and Pension Services who can call you back at a convenient time to discuss your requirements and provide you with their professional and impartial recommendation.