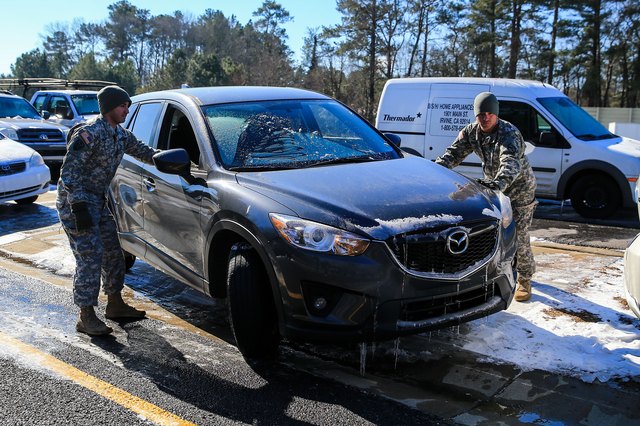 The United States Automobile Association offers insurance products, including life, auto and home and property. The USAA has a military focus and will only accept members now serving in the military, those who have retired from the military, or qualifying family members of a serviceman or woman. Members or those seeking more information can use USAA's online search tool to find local insurance agents.
U.S. Army personnel help move a car off the road
credit: Daniel Shirey/Getty Images News/Getty Images
Use an Online Search Tool
Use the link provided in "Resources" below to access the online USAA Locator tool. The tool provides several ways for users to search for local agents. The "I Need To" drop-down menu can narrow the search to "Find a Representative." Users wanting to search near a specific geographic location can then type the address or zip code into the appropriate field. The United States map will zoom in and the sidebar will show USAA locations nearby. The sidebar will list all of the states containing USAA locations with representatives available. When you click the state, you can then narrow the search down to the appropriate cities. A user can search multiple cities using this technique.
Video of the Day
Contact USAA by Phone
Alternately, you can call the USAA toll-free phone number — 1-800-531-8722 — which has been set up as a general assistance line. Calling the number and following the phone tree or asking for an operator will put you on the phone with a person who can find a local agent. Mobile phone users with service provided by Sprint, AT&T, Verizon and T-Mobile can simply dial #8722 to connect with the help line.